Car Sex Positions - Kama Sutra
On the Hood
If there's anything better than sex in the car, it's sex on the car. If you're in the mood for some open air action, or want to put on a show for the rest of the folks in the parking garage, study these sex positions, lay your honey across the hood and start your engines.
---
Wraparound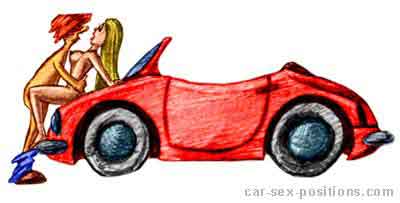 A classic car Kama Sutra pose. The woman sits on the hood, wraps her legs around the man's waist and supports herself with her arms, leaning back. She can control the motion by thrusting with her pelvis, or pulling him towards her with her legs. She may also brace her feet on the car bumper on either side of him for better leverage.
---
The Bridge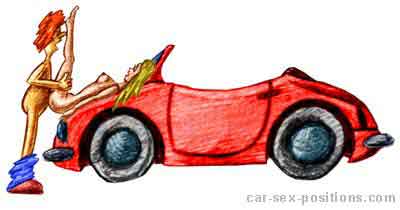 The woman lays back on the hood with the man standing in front of her between her legs. She lifts her legs so that she can hook the back of her heels over her partner's shoulders. The woman then tilts her pelvis up to straighten her back, lining her crotch up with the thrusting of his cock. The man can support her lower back with his hands, and lean back slightly. The woman can vary the angle of her pelvis for better G-spot or clitoral stimulation. This position allows for deep penetration and will make you both feel like porn stars.

---
The Wheelbarrow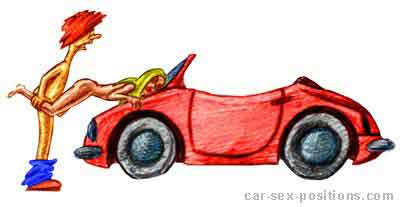 This one is a bit acrobatic and requires some upper body strength from both partners. The woman lays her upper body face down on the car hood or trunk. The man lifts her legs up and holds them spread apart as he fucks her from behind. The woman can also wrap her legs around the man's waist (crossing her ankles behind her back) for extra support. This positions gives the man a nice view of his partner's backside, and is good for G-spot stimulation.

---
Over the Top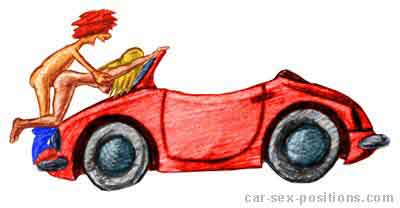 For when you really want to put on a show. The woman climbs up on top of the hood on all fours, with her rear facing the front of the car. She leans on the roof of the car to support her upper body. The man kneels on the hood behind her and fucks her doggy style. Take care not to break the windscreen, and don't bounce too hard or you may lose your balance.